Raven Industries (NASDAQ:RAVN) released its quarterly earnings data on Monday, November 20th. The conglomerate reported $0.33 earnings per share for the quarter, beating the Zacks' consensus estimate of $0.23 by $0.10, Bloomberg Earnings reports. Raven Industries had a return on equity of 13.88% and a net margin of 10.56%. The business had revenue of $101.35 million during the quarter, compared to analyst estimates of $84.54 million.
Raven Industries (RAVN) traded up $0.25 during mid-day trading on Thursday, reaching $33.95. The company had a trading volume of 118,358 shares, compared to its average volume of 157,423. Raven Industries has a 12 month low of $23.65 and a 12 month high of $38.35. The firm has a market cap of $1,219.27, a PE ratio of 33.43, a price-to-earnings-growth ratio of 3.58 and a beta of 1.48.
The company also recently disclosed a quarterly dividend, which will be paid on Friday, January 26th. Investors of record on Friday, January 12th will be issued a $0.13 dividend. This represents a $0.52 annualized dividend and a yield of 1.53%. The ex-dividend date of this dividend is Thursday, January 11th. Raven Industries's payout ratio is 50.98%.
A number of equities research analysts have recently commented on the company. Piper Jaffray Companies set a $31.00 target price on Raven Industries and gave the company a "hold" rating in a research report on Friday, August 25th. Dougherty & Co restated a "buy" rating on shares of Raven Industries in a research report on Friday, August 18th. BidaskClub cut Raven Industries from a "buy" rating to a "hold" rating in a research report on Wednesday. Finally, SunTrust Banks assumed coverage on Raven Industries in a research report on Friday, August 18th. They set a "hold" rating and a $36.00 target price on the stock. Four equities research analysts have rated the stock with a hold rating, Raven Industries has an average rating of "Hold" and a consensus price target of $33.50.
Raven Industries announced that its board has initiated a stock buyback program on Monday, December 4th that permits the company to repurchase $25.00 million in outstanding shares. This repurchase authorization permits the conglomerate to repurchase shares of its stock through open market purchases. Stock repurchase programs are often an indication that the company's management believes its stock is undervalued.
ILLEGAL ACTIVITY NOTICE: "Raven Industries (RAVN) Posts Quarterly Earnings Results, Beats Estimates By $0.10 EPS" was first posted by The Lincolnian Online and is the sole property of of The Lincolnian Online. If you are accessing this report on another website, it was stolen and reposted in violation of US & international copyright laws. The legal version of this report can be viewed at https://www.thelincolnianonline.com/2017/12/07/raven-industries-inc-ravn-releases-earnings-results-beats-estimates-by-0-10-eps-updated-updated.html.
Raven Industries Company Profile
Raven Industries, Inc is a diversified technology company providing a range of products to customers within the industrial, agricultural, energy, construction and defense markets. The Company operates through three segments: Applied Technology Division (Applied Technology), Engineered Films Division (Engineered Films) and Aerostar Division (Aerostar).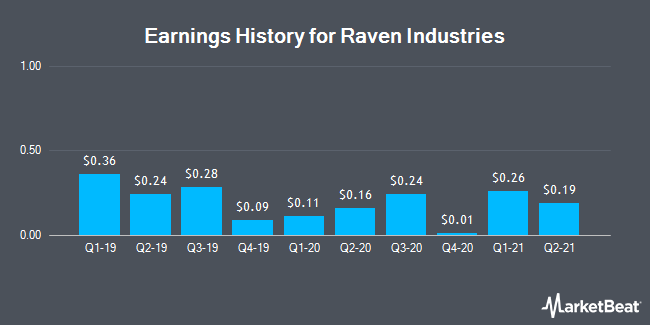 Receive News & Ratings for Raven Industries Inc. Daily - Enter your email address below to receive a concise daily summary of the latest news and analysts' ratings for Raven Industries Inc. and related companies with MarketBeat.com's FREE daily email newsletter.